IUPAC and IOCD Support STICE Project
Peter Mahaffy and Stephen Matlin are co-chairs of a Task Group for a IUPAC project on systems thinking into chemistry education, which is co-funded by IOCD.
This project brings together a distinguished task force of global chemistry and chemistry education leaders to articulate learning objectives for infusing systems thinking and sustainability considerations into the formal teaching of chemistry, with a primary focus on the gate-keeper general chemistry course at the post-secondary level. The project group will also suggest strategies to guide the use of these learning objectives in the design of curriculum and selection of engaging pedagogies. Broad consultation with global chemistry educators is being carried out to explore the most effective ways to move toward fuller infusion of systems thinking. The project group proposes to profile findings at the
2019 World Chemistry Congress in Paris
during the IUPAC Centenary, in keeping with the strong emphasis at the IUPAC Centenary on highlighting ways for chemistry to contribute to solutions to present and future global challenges.
Members of the Task Group include:
Jan Apotheker
Suzanne Boniface
Robert B. Bucat
Yehudit Judy Dori
Temechegn Engida
Alison Flynn
Jonathan Forman
Felix M. Ho
Tom Holme
Jorge G. Ibáńez-Cornejo
Rachel Mamlok-Naaman
Liliana L. Mammino
MaryKay Orgill
Tina Overton
Ting-Kueh Soon
Vicente Talanquer
Marcy Towns
Jennifer MacKellar
References
Preliminary Framework
In a preliminary analysis, published in Nature Chemistry Reviews and discussed at the International Conference on Chemistry Education in Sydney in July 2018, a framework was developed for examination of components in systems thinking applied to chemistry education. This framework comprises three nodes that are centred on the learner: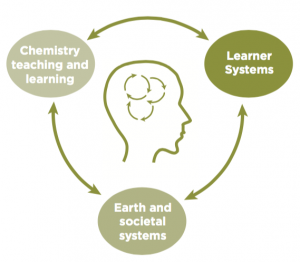 The learner systems node explores and describes the processes at work for learners, which include taxonomies of learning domains, learning theories, learning progressions, models for the phases of memory, the transition from rote to meaningful learning and social contexts for learning.
The chemistry teaching and learning node focuses on features of learning processes applied to the unique challenges of learning chemistry. These include the use of pedagogical content knowledge; analysis of how the intended curriculum is enacted, assessed, learned and applied; and student learning outcomes that include responsibility for the safe and sustainable use of chemicals, chemical reactions and technologies.
The earth and societal systems node orients chemistry education toward meeting societal and environmental needs articulated in initiatives such as the UN Sustainable Development Goals and descriptions of the earth's planetary boundaries. Educational systems to address the interface of chemistry with earth and societal systems include green chemistry and sustainability education, and use tools such as life cycle analysis.
References
P. G. Mahaffy, A. Krief, H. Hopf, G. Mehta, S. A. Matlin. Reorienting chemistry education through systems thinking. Nature Reviews Chemistry 2018, 2, 1-3. doi:10.1038/s41570.018.0126.
P. G. Mahaffy,S. A. Matlin. Seeing the forest while in the trees: systems thinking in science education. Keynote presentation at the 25th International Conference on Chemistry Education, Sydney, 10-14 July 2018.
STICE Activities and Outputs
Very little work had hitherto been done on the incorporation of systems thinking in chemistry education. The STICE project group has explored what can be learned from other disciplines which have embraced a systems approach, such as biology and engineering, as well as considering the specific characteristics of chemistry and the ways that systems thinking can enhance learning and contribute to achieving sustainability goals.
A paper by members of the core STICE group discusses the central role of chemistry in providing the molecular basis of sustainability. It also presents a new visualization tool – the systems-oriented concept map extension (SOCME) to assist educators and learners to explore the boundaries of systems and sub-systems that are relevant to their courses.
P.G. Mahaffy, S. A. Matlin, T. A. Holme, J. MacKellar. A systems thinking framework for educating about the molecular basis of sustainability. Nature Sustainability 2019, in the press.
As a major output of the project and to draw in relevant education experience from across the word, the STICE project arranged with the
Journal of Chemical Education
to produce a
Special Issue
of the Journal. A call for papers was published in 2018 and the
Special Issue
is expected to appear by the end of 2019. It will include several dozen papers, including some from the core STICE project group.