The Chemical Sciences and Development
IOCD was founded at UNESCO in 1981 and promotes the pursuit and application of the chemical sciences for sustainable, equitable human development and economic growth, especially in low- and middle-income countries.
IOCD's current focus is on two priority areas:
Chemistry for Better Health and a Better Environment
Strengthening Education in the Chemical Sciences
Current highlights of IOCD work include:
Working for Sustainable Development
The 2030 Sustainable Development Goals: At a high-level meeting of governments at the UN in New York on 25 September 2015, the Millennium Development Goals which have guided international efforts to address the problems of poorer countries since 2000 were succeeded by new Sustainable Development Goals (SDGs) to be achieved by 2030. The SDGs embrace a global vision of development for all and with responsibility shared by all countries.
Chemistry and the SDGs: Chemistry's contribution is essential to meeting most, if not all, of the SDGs. Importantly, many of these contributions require that chemistry works in close concert with other disciplines to identify solutions that are practical, affordable and sustainable. IOCD is committed to working in partnership with others to ensure that chemistry fulfils its potential of contributing to sustainable development.
IOCD has formed an action group — 'Chemists for Sustainability' — focusing on the roles of chemistry in sustainable development. The group has published over a dozen articles on aspects of the role and future of the chemical sciences.
IOCD Scientists in the News
Changeover at the African Academy of Sciences (AAS)
Nelson Torto
became Executive Director of AAS in August 2017. Prof. Torto is a former Professor of Chemistry and Head of the Chemistry Department at Rhodes University. He is a previous collaborator with IOCD, having been a member of the former IOCD Working Group on Environmental Analytical Chemistry for many years.
The AAS and IOCD collaborate through a Memorandum of Understanding, established in 2012.
---
Two outstanding scientists joint IOCD's General Assembly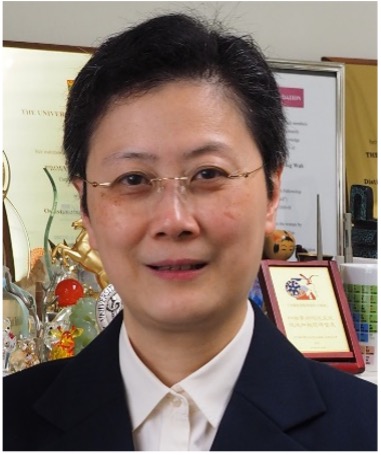 Vivian Wing-Wah Yam
(China) is Chair of the Department Chemistry at the University of Hong Kong and works in the fields of inorganic / organometallic syntheses and photochemistry. She is a Laureate (2011) of the L'Oréal-UNESCO Awards For Women in Science, was a Founding Member of The Academy of Sciences of Hong Kong and is a Member of the Chinese Academy of Sciences and of TWAS, The World Academy of Sciences. Prof. Yam has received numerous awards and honours for her work.
Berhanu Abegaz
(Ethiopia) stepped down in 2017 after completing two terms as Executive Director of the African Academy of Sciences. Prof. Abegaz has long been a collaborator with IOCD. While at the University of Botswana, he founded and coordinated (1992-2011) the Network for Analytical and Bioassay Services in Africa (NABSA) which IOCD helped to establish and support. During his period at the AAS, the organization grew substantially in scope, funding and impact. He is a Member of TWAS, The World Academy of Sciences and has served as chair of the UNESCO International Basic Sciences Programme's scientific board.
Meetings, Conferences and Special Events
IUPAC World Chemistry Congress, Brazil
The 46th World Chemistry Congress (WCC) was organized by the International Union of Pure and Applied Chemistry (IUPAC) in São Paulo, Brazil on 9-14 July 2017. Prof. Stephen Matlin (Secretary, IOCD) participated on behalf of IOCD, taking part in the meeting of the IUPAC Committee on Chemistry Education and presenting a talk on 'One-World Chemistry — Implications for Education' in the WCC session on 'Teaching Chemistry for Sustainability and Diversity'.
---
Commonwealth Science Conference: Singapore
The Royal Society of London and the National Research Foundation of Singapore organised the Second Commonwealth Science Conference on 13-16 June 2017 in Singapore. More than 400 scientists from 37 Commonwealth countries attended the event. Prof. Stephen Matlin (Secretary, IOCD) participated. Prof. CNR Rao, a long-term member of IOCD's Senior Advisory Council and keynote speaker at the first Commonwealth Science Conference, on 'Science for the Common Good' held in Bangalore in 2014, gave the closing Plenary Lecture in Singapore, in which he emphasised the importance of investing in science and technology for development.
IOCD Working Groups and Projects
IOCD action group 'Chemists for Sustainability' was formed in 2014 by an international group of chemists who believe that chemistry and related sciences have indispensable roles to play in helping the world to achieve sustainable development. The core group, which includes Profs. Alain Krief, Henning Hopf, Stephen Matlin, and Goverdhan Mehta, has served advocacy and think-tank roles through written articles, lectures at various fora and web materials.
The group has developed the concept of 'one-world' chemistry as a new orientation for the discipline. This emphasises the need for chemistry to be a science for the benefit of society, embracing the understanding that human health, animal health and the environment are all interconnected. Acting on the consequences requires ethical behaviour at all times, the employment of systems thinking in relation to all aspects of the practice of chemistry, and strengthening the capacity of chemistry for cross-disciplinary working.
IOCD and Partners
IOCD engages in strategic collaborations with a range of other organizations that share similar goals in furthering the role of the chemical sciences. Current examples include:
African Academy of Sciences — AAS
International Union of Pure and Applied Chemistry — IUPAC
UNESCO