THE CHEMICAL SCIENCES AND DEVELOPMENT
IOCD was founded at UNESCO in 1981 and promotes the pursuit and application of the chemical sciences for sustainable, equitable human development and economic growth, especially in low- and middle-income countries.
IOCD's current focus is on two priority areas:
Chemistry for Better Health and a Better Environment
Strengthening Education in the Chemical Sciences
Current highlights of IOCD work include:
WORKING FOR SUSTAINABLE DEVELOPMENT
The 2030 Sustainable Development Goals: At a high-level meeting of governments at the UN in New York on 25 September 2015, the Millennium Development Goals which have guided international efforts to address the problems of poorer countries since 2000 were succeeded by new Sustainable Development Goals (SDGs) to be achieved by 2030. The SDGs embrace a global vision of development for all and with responsibility shared by all countries.
Chemistry and the SDGs: Chemistry's contribution is essential to meeting most, if not all, of the SDGs. Importantly, many of these contributions require that chemistry works in close concert with other disciplines to identify solutions that are practical, affordable and sustainable. IOCD is committed to working in partnership with others to ensure that chemistry fulfils its potential of contributing to sustainable development.
A group of IOCD scientists has published a paper in Nature Chemistry discussing the pivotal contributions that chemistry can make to help realize the SDGs and emphasising that to do so chemistry must undergo major changes in its priorities, approaches and practices.
HONOURS AND AWARDS
Awards for IOCD scientists
IOCD has a long tradition of being associated with leading scientists, including its two successive Presidents, the Nobel Laureates
Glenn Seaborg
and
Jean-Marie Lehn
and current and former members of IOCD's Senior Advisory Council including the Nobel Laureates
Norman Borlaug
,
Sune Bergstrom
,
Roald Hoffmann
and
Ryoji Noyori
. (See under IOCD Leaders Past and Present: click
here
.)
We are proud to highlight recent awards and distinctions given to IOCD chemists: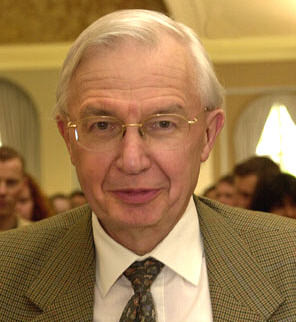 Prof. Jean-Marie Lehn
has been given the Netherlands Award for Supramolecular Chemistry in recognition of his lifetime contribution to the field of which he is considered the founding father. The award ceremony took place in Nijmegen on 30 September, on the day of his 76
th
birthday.
Prof. C.N.R. Rao was conferred in June 2015 with Japan's highest civilian award, the Order of the Rising Sun, Gold and Silver Star, by the Emperor of Japan, for his outstanding contributions to science and Indo-Japanese science cooperation. Prof. Rao is a member of IOCD's Senior Advisory Council.
Prof. Atta-ur-Rahman won the International Scientific Corporation Award of the Chinese Academy of Sciences for building scientific collaborations between China and Pakistan, receiving the highest national award of China for foreigners, the "Friendship Award of China" in September 2014. He is a member of IOCD's Senior Advisory Council and the most decorated scientist in Pakistan, having been credited with reviving the higher education and research practices in the country. He was previously conferred with the prestigious "Einstein Professorship" by Chinese Academy of Sciences in 2013.
Prof. Federico Rosei was presented with the World Cultural Council's 2014 José Vasconcelos World Award of Education at a ceremony in Finland on 17 November 2014 which was attended by IOCD's Executive Director. Prof. Rosei heads IOCD's Working Group on Materials for Energy Conversion, Saving and Storage (MATECSS) and was also recently accorded the honour of being appointed to a UNESCO Chair at his Institut National de la Recherche Scientifique in Montreal.
Prof. Kurt Hostettmann
was presented on 1 September 2014 with the
Egon-Stahl-Award in Gold
on the occasion of the annual congress of the Society for Medicinal Plant and Natural Product Research held in Guimaraes, Portugal. The Award is the highest distinction of the Society and acknowledged Prof. Hostettmann's outstanding scientific lifetime work as a research scientist who has been closely involved with pharmacognosy and phytochemistry. Prof. Hostettmann has chaired IOCD's Working Group on Plant Chemistry for many years.
IOCD SCIENTISTS IN THE NEWS
Prominent IOCD scientist, Lester Mitscher, dies
With deep regret IOCD learned of the death of
Prof. Lester Mitscher
on 8 May 2015 at the age of 83. Based at the University of Kansas, Prof. Mitscher was an outstanding leader in the field of medicinal chemistry. Specializing in the search for new antimicrobial agents and a key player in the development of both tetracycline- and quinolone-based agents, Prof. Mitscher was the recipient of numerous awards and honours during his long and distinguished career. For many years, from the 1980s onwards, Prof Mitscher played a major role as an adviser, investigator and educator with IOCD and at the time of his death was Chair of IOCD's Working Group in Medicinal Chemistry. He will be greatly missed by his many colleagues and friends.
---
Automedication in primates
Prof. Sabrina Krief
was interviewed by Radio Télévision Suisse about her work on automedication in primates. This interview, in French, can be heard
here
. Prof. Krief, who works at the Muséum National d'Histoire Naturelle de Paris, is conducting an IOCD project on automedication in primates. This aspect of zoopharmacognosy can be a valuable source of information on plants with potential medicinal active ingredients for use in human beings.
---
Leading African scientist chairs UNESCO International Basic Sciences Programme board
Prof. Berhanu Abegaz
was elected chair of the UNESCO International Basic Sciences Programme (IBSP) scientific board in May 2015. UNESCO established the multidisciplinary programme to strengthen national capacities in the basic sciences and science education. IBSP's scientific board advises UNESCO's leadership on basic science matters. Prof. Abegaz is Executive Director of the African Academy of Sciences and has been a long-standing associate of IOCD. He is currently a member of IOCD's Senior Advisory Council.
MEETINGS, CONFERENCES AND SPECIAL EVENTS
Image of the Ishango Bone returns to Africa
The Ishango Bone was discovered in 1957 at a prehistoric site dating from 20,000-25,000 years ago in what is now the Democratic Republic of Congo. The Bone is carved with sets of parallel markings and is considered to be one of the oldest surviving examples of the practice of arithmetic at this early stage in human history. Held at the Royal Belgian Institute of Natural Sciences (RBINS) in Brussels, it provides an enduring symbol of mankind's intellectual progress.
To mark the launch of the Alliance for Accelerating Excellence in Science in Africa (AAESA) at the African Academy of Sciences (AAS) on 10 September 2015 in Nairobi, Kenya, IOCD collaborated with partners in a project to produce copies of the Ishango Bone for display as a symbol of early science in Africa. 2015 is the UN International Year of Light and Light-based Technologies and a fitting way to mark this was to create a 21st century image of the original prehistoric bone, using glass and light to display the bone's unique character. Manufactured by Vitra Laser Solutions UG in Germany, a 2D image of the Ishango Bone etched in a glass plate and illuminated by LEDs in the plate's edge was presented to the AAS in the AAESA launch ceremony, in which IOCD's Executive Director Prof. Alain Krief participated.

Ishango Bone Replica
1.5 m x 0.5 m image - blue light
Photo: Vitro Laser Solutions UG

H.E. Dr. Ameenah Gurib-Fakim, President of the
Republic of Mauritius, unveiling the Ishango
Bone at the presentation ceremony, with IOCD
Executive Director Prof. Alain Krief
Photo: African Academy of Sciences
---
2015 IOCD International Symposium on Plant Chemistry. Marrakesh, Morocco, 7-10 April 2015. The Plant Kingdom: Source of drugs, neutraceuticals and cosmetics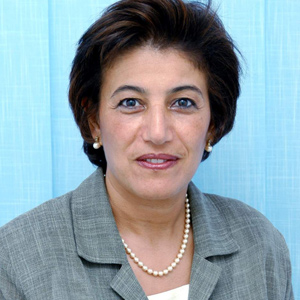 The IOCD Working Group on Plant Chemistry, led by
Prof. Kurt Hostettmann
, organized the latest of its long-running series of International Conferences on Plant Chemistry in Marrakesh in 2015. The programme included an opening lecture by Her Royal Highness
Princess Chulabhorn Mahidol
of Thailand on 'Natural Product Drug Research: Bioactive Compounds from Thai Bioresource'. The conference, attended by about 200 participants, was organised in partnership with the eminent Moroccan natural products chemist
Prof. Zoubida Charrouf
(pictured here), Professor in the Science Faculty of Mohamed V. University at Agdal, Rabat.
---
5th NARC-IOCD Symposium: 26 November 2014, Namur
IOCD collaborates with the Namur Research College (NARC) to mount a prestigious series of international symposia presenting the latest advances in research in the chemical sciences. The 5th NARC-IOCD Symposium was held on 26 November 2014 in Namur, Belgium and the programme include a lecture by IOCD's President, the chemistry Nobel Laureate Prof. Jean-Marie Lehn, on "Perspectives in Chemistry: From Supramolecular Chemistry towards Adaptive Chemistry". Marking the occasion of the German Year, there were also lectures by several chemists from Germany, including Profs. Carsten Bolm and Fransziska Schoenbeck (Aachen University), Profs. Burkhard Koening and Oliver Reiser (Regensburg University), Prof. Ryan Gilmour (Münster University) and Drs. Peter Golitz and Eva Wille from the publishing company Wiley (Frankfurt).
---
IUPAC Meetings
IOCD is an affiliate of the International Union of Pure and Applied Chemistry (IUPAC) and participates in a number of key IUPAC events. These have included:

Prof. Stephen Matlin (Head of Strategic Development at IOCD) participated in the annual meeting of IUPAC's Committee on Chemistry Education in Toronto, Canada, where he provided an update on IOCD's activities; and he gave a presentation on IOCD's ChemKnowBase chemistry education project during the concurrent 23rd International Conference on Chemistry Education, 13-18 July 2014.

Prof. Alain Krief (IOCD Executive Director) attended the annual meeting of IUPAC's Committee on Chemistry Education in Busan, South Korea with the support of The French Community, Belgium and presented on IOCD's activities; and he gave a talk on IOCD's ChemKnowBase chemistry education project during the concurrent IUPAC 45th World Chemistry Congress, 9-14 August 2015.
IOCD WORKING GROUPS AND PROJECTS
Books for International Development (BID)
In IOCD's BID Project, led by Prof. James Cosentino (Biology Department, Millersville University, USA), donated items comprising textbooks and journals in science and other disciplines, as well as, from time to time, classroom furnishings and scientific equipment, are collected, sorted, packaged in container loads and shipped to libraries and institutions in LMICs. One of BID's most recent shipments, which included university-level books and journals, student desks and chairs, filing cabinets, computer desks and catering supplies, was made to Cagayan de Oro City, Philippines.
---
Promoting the future of the chemical sciences for development
The future of chemistry: IOCD scientists Profs. Stephen Matlin, Goverdhan Mehta and Henning Hopf published an editorial entitled Chemistry embraced by all in Science in 2015. The article argues the case for repositioning chemistry to attract greater appreciation for and support of the field from scientists, the public, media and policy makers.
Education in Chemistry: The 2015 Gordon Research Conference on Chemistry Education Research & Practice: Chemistry Education as an Agent in Global Progress took place at Bates College, Lewiston ME, USA on 21-26 June 2015. Prof. Stephen Matlin (Head of Strategic Development at IOCD) was invited to participate and gave a lecture on The Contribution of the Chemical Sciences to Global Progress: Achievements, Prospects and Challenges.
IOCD AND PARTNERS
IOCD-UNESCO affiliation strengthened
IOCD was established at UNESCO in 1981 and subsequently became an international NGO registered in Belgium. Throughout its history, IOCD has maintained links with UNESCO and is delighted that in 2015 an official partnership (consultative status) has been established between them.
In announcing this new formal relationship in June 2015, UNESCO Director-General Irina Bokova noted the clear relevance of IOCD's work to the current programmes and activities of UNESCO, built on a solid foundation based on many areas of common interest and synergies and previous collaborations, as witnessed by the close cooperation between both organizations during the 2011 International Year of Chemistry. The announcement was warmly welcomed by IOCD's President Jean-Marie Lehn and Executive Director Alain Krief, who expressed their hope that this will lead to further cooperation that strengthens the impact of IOCD's work.