Former IOCD Project: Books For International Development
Access to good quality, contemporary textbooks is critical for education and professional development in all areas, including the chemical sciences, but university libraries in low- and middle-income countries (LMICs) often lack a stock of suitable materials due to the high costs of purchasing and shipping. Aided by student volunteers, IOCD established a programme at the University of Millersville, USA led from 2003 until 2017 by Prof. M. James Cosentino, to collect good quality textbooks (across all disciplines) donated by libraries and private sector companies.
The goal of this project was to provide university-level books to LMICs around the world, where wars, natural disasters and continued poverty created a need for new university libraries and holdings. Donated books were shipped to the recipient country by large shipping container. The project is sponsored by
UNESCO
, the International Organization of Chemical Sciences in Development (IOCD) and the
State of Pennsylvania
with cooperation and donations in kind from the
World Bank
and the
American Association for the Advancement of Science
and
Millersville University
.
From 2003, at least 20 shipments of c. 7,000 kg each were sorted, packaged, shipped and delivered to libraries in LMICs, including countries in Africa, Asia and the Pacific (Angola, Bangladesh, Comoros, Democratic Republic of the Congo, Eritrea, Guinea-Bissau, Mauritius, Pakistan, Philippines, Swaziland and Vietnam). The Millersville group also successfully arranged deliveries of functioning, used computers (24 per shipment) to 13 LMICs and of essential medical supplies to Haiti following the 2009 earthquake. In 2010 Prof. Cosentino won an award as an International Leader at Millersville.
Volunteering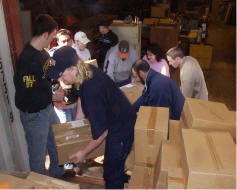 Volunteers working with project head Dr James Cosentino (centre)
to package container loads of books for shipment to libraries in LMICs
Books for International Development is a non-profit project designed to help LMICs establish an institution of higher learning through donations of university level books and other beneficial donations such as computers. The project receives donations on a regular basis and has many operations that are necessary for the successful continuation of this project. The project welcomes volunteer efforts that are directed to achieving the project's goal.
The following volunteer positions are available at the moment:
book donation pick up
book sorting by discipline
book packaging and preparation for shipment
inventory maintenance
shipment loading and unloading
advertising
Donations
Donations are tax-deductible. OCDI, a tax-exempt branch of IOCD is a 501 (c)(3) organization. Therefore, both monetary donations and the value of donated materials are tax-deductible. We can only accept donations of university level books. Although science books are most requested, we will accept donations of any university-level books in other disciplines, which can be textbooks or others. Journals are also needed, but should cover some period of time no less than one year. Material donated should typically be no more than 15 years old and in very good condition. Once donations have been received, we provide a letter of donation for tax purposes, stating the amount of materials or funds donated. The value of the books and journals is up to the donor to determine.